National Idea Bank
click above button to view idea.
Problem Statement
According to the World Air Quality Report (2021), Pakistan is the world's second most polluted country. "Vehicles that operate on fossil fuels are a major source of pollution. The burning of fossil fuels emits greenhouse gases (GHG) and raises the average temperature of the Earth.
Bio-Being is an eco-friendly fuel provider which is Bio-Diesel. Our product, first time in Pakistan for a commercial sector, to reduce global warming emissions, saves billions of dollars by less reliance on the import of fossil fuel and generate employment to boost our economy.
Biodiesel is a versatile biofuel that is renewable, biodegradable, and environmentally friendly as its combustion adds only biogenic carbon to the atmosphere.
Vision:
To build a better future for the next generation through reduction of global warming emission.
About Innovator
Name : Ali Riaz
City : Karachi
Province: Sindh
University : Institute of Business Management
Details : 
Team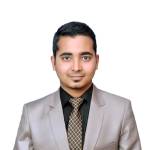 Ali Riaz

Pitch Video
Support My Idea